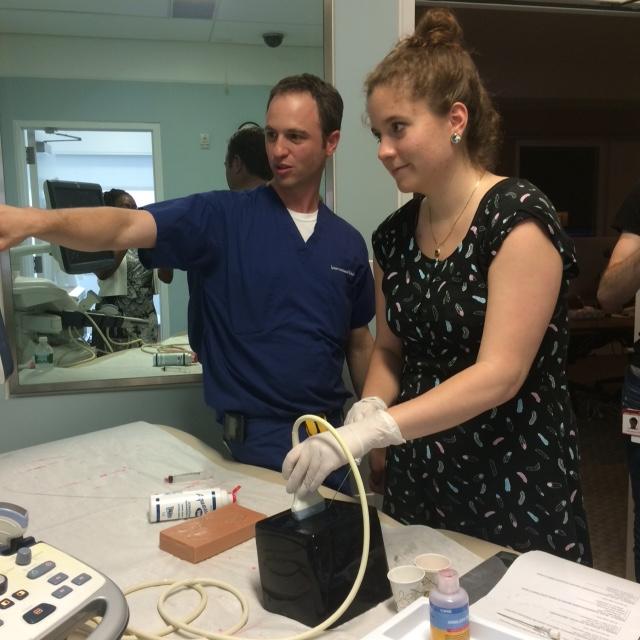 The Departments of Surgery, Anesthesiology and Radiology operate the Skills Acquisition & Innovation Laboratory ("SAIL") to provide state-of-the-art educational experiences for healthcare professionals.  SAIL provides a critical training ground for medical students, residents and fellows. It enables seasoned physicians, nurses and other providers to improve and broaden their skills and teamwork. Simulation is an important component of training in the Department of Radiology's Residency Training and Interventional Radiology ("IR") Fellowship programs. Our program includes:
Contrast Reaction Simulation:
Run every two weeks.
Goal: to gain familiarity with identification and management of contrast reactions
Faculty:  attending radiologists
Attendees:

Required of all radiology residents
Open to all fellows and staff, including RN, NP, PA and technologists.
Also open to attending radiology staff for MOC.

Different scenarios for contrast reaction simulation:

Hypoglycemia
Anaphylaxis
Bronchospasm
Coughing
Vaso-vagal seizure
IR Weekly Didactic Lecture Curriculum
Mondays in the SAIL Conference Room. 
Attendees: IR Fellows; Radiology Residents are invited to attend.
Faculty: Tri-institutional faculty from Weill Cornell Medicine, MSKCC, and Columbia, with invited faculty from various disciplines including Vascular Surgery, Anesthesiology and Hepatobiliary Surgery.
IR Simulation Curriculum:
The dedicated IR simulation curriculum is intended to allow trainees to learn interventional skills such as:
wire/catheter skills, angiography techniques, ultrasound guided procedures, radiation safety, and procedural steps in a non-threatening, risk free environment utilizing a high fidelity endovascular simulator.
Trainees will advance from basic endovascular skills training through complex procedures training including clinical patient management with advancement in knowledge and skill.
The types of procedures that can be modeled with the simulator include:
IVC filter placement, IVC filter retrieval
arterial embolization procedures
uterine artery embolization
renal artery stenting; and
many peripheral arterial interventions (i.e.: TVAR, EVAR, iliac and SFA interventions)
The endovascular simulator allows for assignments and tracking of performance so the IR faculty can provide feedback to the trainees for areas of additional focus and learning.  
Multi-disciplinary Annual IR Sim Day
Inter-professional education and training is critical to improving communication among members of the clinical care team that come from "silos" of clinical training and do not overlap. Lack of teamwork and communication among members of the care team are among the leading contributors to adverse events, which can be reduced by improving the ways in which teams function.
Simulation of scenarios allows the members of the team to understand each other's perspective and skills, improve communication and identify shared goals to ultimately improve quality and safety of medical care.
Sample scenarios performed as part of our simulation training events included a ruptured iliac artery aneurysm resulting in a code and a patient that became hypoxic while prone for a percutaneous nephrostomy tube placement. These scenarios and team training resulted in improved communication and methods for optimizing patient care.
Annual Medical Student IR Symposium
Offered annually in the Spring and attracts medical students from the tri-state area.
Hands-on skills symposium for medical students interested in image-guided interventions.
Seven hands-on stations including filter deployment & retrieval, venous thrombo-embolization management, GI bleeding and embolization, etc.
Other Simulations:
Giant air embolism
Nephrostomy
Carcinoid crisis
Joint injections
Lumbar punctures; cervical punctures
Vertebroplasty
CT guided procedures- biopsies and vascular access