Program Director: Dr. Natasha Wehrli
Associate Program Director: Dr. Grace Lo
Overview
The Abdominal Imaging fellowship is a one year, non-ACGME accredited program that provides up to five radiologists per year with comprehensive training in abdominal and pelvic imaging, with an emphasis on multiparametric MRI. Our fellows receive broad clinical experiences in inpatient, emergency, and ambulatory care at NewYork-Presbyterian Hospital, a comprehensive, integrated academic healthcare system ranking in the top five hospitals nationally and ranking number one in New York in the U.S. New & World Report's annual survey of "Best Hospitals". Our state-of-the-art imaging equipment and facilities provide fellows with the opportunity to develop expertise in advanced and emerging techniques in US, CT, and MR imaging, with the option for additional training in PET-CT and PET-MRI.  Abdominal Imaging fellows are able to design an experience tailored to their individual interests and goals, and our graduates have taken a broad range of positions in private practice, academic medicine, research, and informatics.  
Positions Available and Important Dates:
2024-2025: We will be offering 4-5 Abdominal Imaging training positions and up to 2 combined Cardiothoracic/Abdominal Imaging training positions. In accordance with the SCARD guidelines, applications will be accepted beginning November 1, 2023, and we will offer interviews beginning January 8, 2024. All interviews will be virtual via Zoom. Interested candidates should apply early in the season, as we review applications regularly and on a rolling basis.
Clinical Experience
The Abdominal Imaging fellowship is based at NewYork-Presbyterian Hospital/Weill Cornell Medicine.  With a large primary-care and tertiary-level referral base, the clinical service is comprised of a high-volume and full scope of abdominopelvic imaging. Fellows gain experience with cutting edge GE and Siemens technology including two PET/MRI scanners (Siemens Biograph mMR and GE Signa PET/MR); GE Advantage Workstations; and multiple software platforms including TeraRecon, Vital Vitrea, SyngoVIA, and DynaCAD. Our advanced 3D Imaging Data Evaluation and Analysis Lab (IDEAL) complements
the training experience with on-demand 3D reconstructions, volumes, tumor segmentation, custom MIPS, and image fusion.
Highlights of our practice include:
Hepatobiliary Imaging: Hepatocellular and cholangiocarcinoma screening utilizing US, CT, and MRI with both extracellular and hepatobiliary contrast agents; pre- and post-treatment evaluation (including transarterial chemoembolization, Y-90 radioembolization, thermal ablations) with LI-RADS and OPTN; pre- and post-transplant imaging; liver donor evaluation; MR elastography; state-of-the-art Liver Lab techniques for iron and fat quantification. 
Pancreaticobiliary Imaging: Solid and cystic pancreatic neoplasms; acute and chronic pancreatitis with secretin MRCP; primary sclerosing cholangitis; emergency pathologies including choledocholithiasis and acute cholecystitis

.

Transplant Imaging: Pre-transplant CT and MR evaluation of liver, kidney, and pancreas transplant recipients and organ donors, including living donors for both kidney and liver transplants; MR, CT, and US follow-up of transplant recipients.
3T Comprehensive Prostate Imaging: PI-RADS classification of over 1,500 prostate MR annually, with hands-on prostate segmentation for over 300 targeted fusion biopsies performed per year in conjunction with the IDEAL lab and Urology. 
Genitourinary Imaging: Urinary tract and gynecologic cancers, including PET/MR evaluation; pre- and post-treatment imaging after uterine fibroid embolization; dual energy CT imaging of the urinary tract. 
Rectal Cancer Imaging: Pre- and post-treatment 3T MRI evaluation with emphasis on standardized reporting and multi-disciplinary treatment approach. 
Vascular Imaging: Aneurysm evaluation, pre- and post-endovascular repair; vascular runoffs; mesenteric vessel evaluation; pre-operative mapping for autologous breast reconstruction with perforator flaps.
Inflammatory Bowel Disease Imaging: CT-enterography, MR-enterography, and perianal pelvic MRI, including pre- and post-treatment evaluation.
Molecular Imaging: Adult and pediatric PET/CT and PET/MRI.
CT Colonography: Screening CT colonography with 3D software analysis.
Pelvic Floor Imaging: Dynamic fluoroscopic and MR defecography.
Tumor Boards and Interdisciplinary Conferences
Fellows gain expert-level, subspecialty knowledge by staffing selected tumor boards and interdisciplinary conferences in conjunction with an attending. 
Monday

Gastrointestinal Interdisciplinary Conference: Weekly at 4PM
Genitourinary Interdisciplinary Conference: Weekly at 4PM
Renal Transplant Recipient Selection: Weekly at 4PM
Inflammatory Bowel Disease Interdisciplinary Conference: Monthly at 5:30PM

Tuesday

Living Donor Liver Transplant: Biweekly at 5PM
Pelvic Floor Interdisciplinary Conference: Monthly at 5PM
Pancreas Interdisciplinary Conference: Weekly at 6PM

Wednesday

Liver Tumor Board: Weekly at 7AM
Esophagus Interdisciplinary Conference: Monthly at 5:15PM

Thursday

Prostate Tumor Board: Monthly at 4PM
Colorectal Interdisciplinary Conference: Weekly at 5PM

Friday

Gynecology/Oncology Tumor Board: Weekly at 8AM
Esophageal/Gastric Tumor Board: Weekly at 8AM
Curriculum
The year is divided amongst outpatient and inpatient MRI, CT, US, and fluoroscopy, with a heavy emphasis on MRI. There are eight weeks of elective time to explore other subspecialties in radiology or dedicate to research. Fellows are granted one protected, full academic day per week to pursue research, education, or systems improvement projects with attending staff mentorship.
 Clinical and didactic sessions include:
Interesting Case Conference: Interesting Case Conference: Tuesdays at 11AM. Fellow-driven weekly, division-wide Abdominal Imaging conference attended by all Abdominal Imaging attendings, fellows, and residents on rotation. Interesting and challenging cases, as well as emerging techniques, artifacts, protocol issues, and QI/QA, are presented and discussed. Guest speakers are invited to present special topics, with past invited speakers including full-time faculty from the

 

Cornell MRI Research Lab

 to discuss ongoing research and collaboration opportunities, as well as representatives from the IRB and biostatistics. 

Body Imaging Teaching Conference: 

Thursdays at 8AM. Weekly didactic conference focused on fellow education, with a broad range of topics led by Abdominal Imaging attendings and other guest speakers.

Journal Club: Fellows present at quarterly journal clubs which are integrated into the Interesting Case Conference, with robust discussion on the latest evidence-based guidelines.
Quarterly Prostate Rad/Path Conference
Numerous Interdisciplinary Conferences and Tumor Boards: Fellows are involved in case preparation and presentation with attendings in selected conferences.
Monthly Grand Rounds
Annual John A. Evans Alumni Day Symposium: Fellows are provided coverage and funding to attend the annual day-long course and reception, which addresses current hot topics including innovation and challenges within radiology. Recent course topics have included artificial intelligence, physician wellness, radiologist visibility, social media use, and global health.
NYRS Annual Meeting: Fellows are provided coverage and funding to attend the multi-day educational conference.
Additional educational conference funding and conference time is available for an individually tailored educational experience.
Fellows have the opportunity to participate in the daily training of residents and medical students, and to give clinical lectures to ultrasound technologists, residents, and medical students. Fellows hone their teaching skills by preparing case-based and didactic lectures.
Vacation/Conference Time
Each fellow is allotted 20 days of vacation (which can be taken by the day or the week), 5 days of conference time, with additional time allotted for interviews.
Benefits
A competitive salary is provided with opportunities for moonlighting and extra compensation, subject to change. A generous book fund is provided, with additional conference funding available. Additional wellness benefits include ClassPass subscriptions and several social events that occur throughout the year, ranging from monthly happy hours to welcome and graduation receptions.
Combined Cardiothroacic/Abdominal Imaging Fellowship
Positions for a combined Cardiothoracic/Abdominal Imaging fellowship are available, with half of the academic year dedicated to Cardiothoracic Imaging and half of the academic year dedicated to Abdominal Imaging. Please specify if you are interested in this particular training pathway in your application. 

Faculty
Section chief: Manjil Chatterji, MD
Elizabeth Bellew, MD
Emily Brady, MD
Maria Grigovich, MD
Anna Starikov, MD
Recent Abdominal Imaging Fellows
2021-2022:
Avri Bohm, MD

Medical school: New York University School of Medicine
Residency: Lenox Hill Radiology
Current position:  Assistant Professor of Radiology, University of Rochester

Jessica Patel, MD (Combined Cardiothoracic/Abdominal Imaging)

Medical school: University of South Florida College of Medicine
Residency: Icahn School of Medicine at Mount Sinai (West)
Current position: Assistant Professor of Radiology, Weill Cornell Medical College
Raymond Ramzi, MD

Medical school: American University of the Caribbean
Residency: SUNY Downstate
Current position: Radiology Associates of Hollywood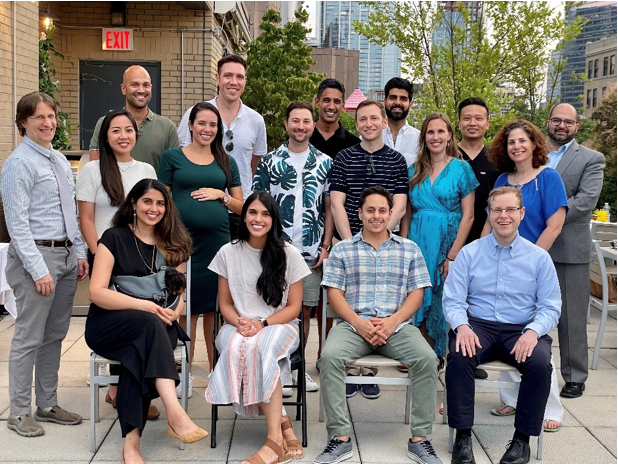 2020-2021:
Sharon Gordon, MD

Medical school: Albert Einstein College of Medicine
Residency: Montefiore Medical Center
Current position: Assistant Professor of Radiology, Mount Sinai Health System, NYC

Christopher Morley, MD

Medical school: New York University School of Medicine
Residency: New York University School of Medicine
Current position: Radiology Partners
Application Requirements:
Please complete the online application, which includes uploading the documents listed below, with the exception of the letters of recommendation, which should be directly emailed to our program coordinator (contact information below). 
 Required documents:
Current Curriculum Vitae (CV)
Digital Headshot
Personal Statement
A minimum of three letters of recommendation, one of which should be from your Program Director. Please have your letter writers or your coordinator send the letters of recommendation with the subject line, "LOR for [Name of Applicant]".
Medical School Diploma
Medical School Transcript
USMLE Transcript
New York State License, if available at time of application. An unrestricted New York State license must be obtained prior to starting the fellowship. Please see requirements for New York State licensure for additional information on state licensing.
A copy of your ECFMG certificate, if applicable
Please note: An unrestricted New York State medical license and satisfactory immigration status (if applicable) will be required by the start date of the fellowship.  
All letters of recommendation should be sent via email to:
Ms. Michelle Byrne
Abdominal Imaging Fellowship Program Coordinator
NewYork-Presbyterian Hospital/Weill Cornell Medical Center
525 East 68th Street, Box 141
New York, NY 10065-4870
Phone: (212) 746-2527
Email: mib2045@med.cornell.edu