On July 1, 2013, NewYork-Presbyterian/Lower Manhattan Hospital became the sixth campus of NewYork-Presbyterian Hospital.  As the only hospital south of Union Square, NYP/Lower Manhattan Hospital (formerly New York Downtown Hospital) is vital to meeting the diverse health care needs of the millions of people who work and live in the region.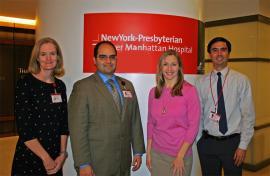 NYP/Lower Manhattan Hospital's Department of Radiology is a full-service center, providing high-quality diagnostic imaging and image-guided interventions of all modalities, including radiography, CT, ultrasound, MRI, nuclear medicine, bone densitometry, comprehensive digital breast imaging and procedures, and interventional radiology.  We have earned multiple accreditations by the American College of Radiology for meeting state-of-the-art practice standards.
The Department of Radiology at NYP/Lower Manhattan Hospital is staffed solely by Weill Cornell Medicine faculty.  All are medical doctors certified by the American Board of Radiology, and all have completed additional subspecialty fellowship training in their specific areas of expertise.   Several of our radiologists have been invited speakers at international conferences.
The mission of our Department is to extend the exceptional care and service of a world-renowned academic medical center to the patients and referring physicians of Lower Manhattan and the Greater New York area. 
Contact Information for NYP-Lower Manhattan Hospital, Department of Radiology:
Tel: (212)) 312-5179