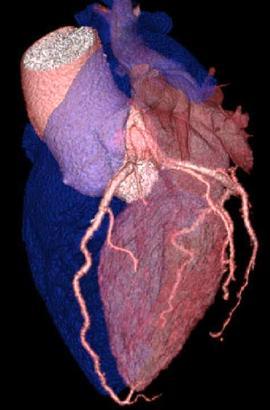 The Division of Cardiovascular Imaging at NewYork-Presbyterian Hospital/Weill Cornell Medical Center is one of the leading cardiovascular imaging divisions in the nation.  The faculty of the Division are comprised of board-certified radiologists and board-certified cardiologists with a wide range of expertise in cardiac and vascular diagnosis of adult and pediatric patients. Our faculty members are national and international leaders in the field of cardiovascular imaging and cardiovascular imaging research.  They serve and have served in top leadership positions within professional societies, and regularly lecture on a local, national and international level.
The Division of Cardiovascular Imaging performs state-of-the-art diagnostic evaluations employing the latest generation technologies in computed tomography (CT), magnetic resonance imaging (MRI), positron emission tomography (PET), single photon emission computed tomography (SPECT), and molecular imaging.  Our extensive facilities include outpatient, inpatient and dedicated research facilities on the main campus as well as at several additional sites around the New York City area.  Each of these facilities is American College of Radiology (ACR) certified, and supported by a team of expert physicists, nurses and technologists.
The Division of Cardiovascular Imaging is also committed to education and offers dedicated clinical and research fellowships in multimodality cardiovascular imaging, a comprehensive educational curriculum and a regular grand rounds series.