Our residents spend a majority of their time at NewYork-Presbyterian/Weill Cornell Medicine (NYPH/WCMC). This includes time spent at our state-of-the-art ambulatory care facility, dedicated outpatient venous practice, and longitudinal care clinic. In addition, our trainees supplement their education by rotating at the Memorial Sloan-Kettering Cancer Center (MSKCC) for a comprehensive oncologic experience. Trainees are immersed in all aspects of clinical vascular and interventional radiology including the full spectrum of interventional oncology, acute and chronic venous disorders, benign and malignant hepatobiliary interventions, women's and men's health interventions, peripheral vascular disease, dialysis access, portal hypertension, venous access and malformations, as well as pediatric care.
Interventional Radiology Consult Service
We run a full clinical and consultative service, with our daily team comprised of an attending, two residents and two Nurse Practitioners. We manage a service of our existing patients, field new consults, perform bedside procedures, and engage in multidisciplinary patient care.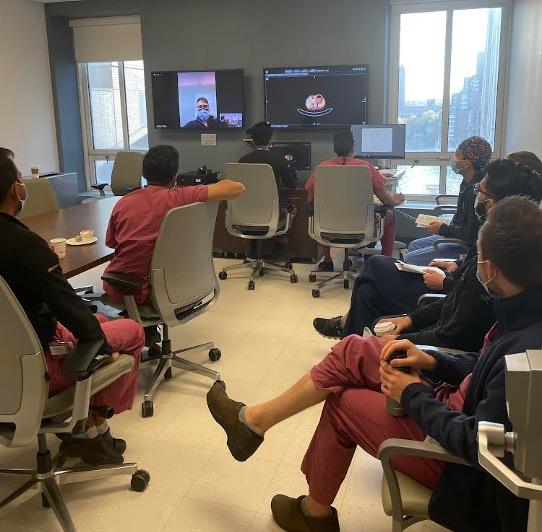 Simulation Curriculum

Along with the Departments of Surgery and Anesthesia, we are partners in the Weill Cornell Medicine Skills Acquisition & Innovation Laboratory (SAIL). Residents practice ultrasound, suturing and technical skills using state of the art, high fidelity simulation technology, featuring the Mentice endovascular simulator. Our IR residents participate in a dedicated two year simulation curriculum, focusing on high yield IR cases in a risk-free environment.

https://sail.weill.cornell.edu/Research Opportunities

There are many opportunities for trainees to get involved with high level research.  Our faculty hold numerous NIH funded grants, are actively participating in industry funded clinical trials and developing local institutional research projects.  The faculty actively seek out residents to assist in research projects and we hold bi-weekly research meetings to update the faculty and trainees on our research endeavors.

Educational Curriculum

We have instituted a five-day educational curriculum with protected educational time for trainees Monday through Friday from 7 AM- 7:30 AM.
Mondays=Tri-campus Didactics
Tuesdays=Alternating Case Conference & Research meetings
Wednesdays=Tumor Boards
Thursdays= Alternating Interesting Case Conference, Quality & Safety Conference, & Journal Club Meetings
Fridays= PD/Trainee Meetings or Trainee In-service
We also hold monthly Multidisciplinary Meetings as well as monthly joint IR/Vascular Conferences with Vascular Surgery.