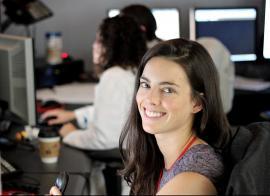 Our deep commitment to providing an outstanding educational experience for our trainees guides all aspects of our teaching programs. The Department of Radiology leadership, Dr. Robert Min (Chairman), Dr. Keith Hentel (Executive Vice Chair), Dr. Robert Zimmerman (Vice Chair for Education), and Dr. Andrew Schweitzer  (Program Director) are passionate about resident education and we take enormous pride in the accomplishments of our trainees and graduates.
Members of the department hold national radiology education leadership positions in the American Board of Radiology (ABR), the Radiology Residency Review Committee (RRC) and specialty/subspecialty organizations. We constantly look for ways to improve the educational experience of our residents and rely upon them for input. The leaders of the department maintain an open door policy and are always willing to meet with individual residents to discuss any issues. Through the residents' involvement on the department's education committee and monthly meeting with the chairman, the residents' recommendations form the basis for many of the changes we have and will continue to make to improve our residency and fellowship programs.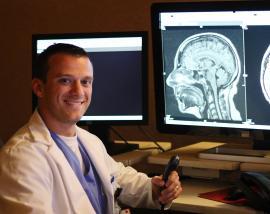 Our residents rotate through three hospitals, the NewYork-Presbyterian Hospital, Memorial Sloan Kettering Cancer Center, and Hospital for Special Surgery, which are within a 4 block radius. The NewYork-Presbyterian Hospital has affordable housing available to house staff. This enables trainees in our program to interact with one another on a daily basis no matter where they are assigned engendering a sense of community, which we believe to be unique and special. Simply put, our residents form a cohesive group where cooperation and mutual support routinely occur.
The department has 36 residents. There are ACGME approved fellowships in Neuroradiology and in Interventional Radiology. Fellowships are also available in body imaging, MR, Womens Imaging and Emergency Radiology. Fellows and residents work closely together and the case volume and variety are such that all trainees have an opportunity to experience the full range of imaging studies and interventions.
Clinical Care:
The Department of Radiology's residency training program encompasses three of the pre-eminent academic medical centers in the country: NewYork-Presbyterian Hospital, Memorial Sloan Kettering Cancer Center and the Hospital for Special Surgery.
The NewYork-Presbyterian Hospital is ranked #1 in the Metropolitan New York area and #6 nationwide by US News & World report. It provides primary care to residents of the upper east side of Manhattan and the five boroughs and is also a tertiary care center with an international reputation for excellence in the diagnosis of and treatment of cardiovascular, oncologic, pediatric, central nervous system and gastro-intestinal diseases.
Memorial Sloan Kettering Cancer Center is a world-renowned center for clinical care and research into oncologic diseases and is ranked 2nd nationally by US News & World Report for cancer care.
Hospital for Special Surgery is the top ranked hospital for orthopedic care by US News & World Report.
The radiology departments at the three institutions are all state of the art. We operate over 35 clinical MR scanners, 24 CT scanners, 12 PET/CT, and 2 PET/MR scanners. The combination of advanced imaging equipment and clinical cases which covers the entire spectrum of diseases across all medical disciplines ensures that our residents will have experience and exposure to areas needed to enter practice after completing their training.
Most importantly, all three institutions continue to grow and improve their capabilities. New facilities for inpatient and outpatient care are being constructed with projected opening during your training. NewYork-Presbyterian Hospital is building an ambulatory care center which will be the home of our new outpatient advanced imaging interventional service. I encourage you to follow the provided links to the websites for our individual divisions to learn more about our clinical programs.
Research: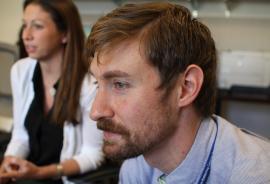 Clinical and bench research occurs at all three institutions (NYPH, MSKCC, and HSS). Taken together the level of NIH funding for our hospitals exceeds that of any institution in the metropolitan New York area. The Department  of Radiology operates a research imaging facility, Citigroup Biomedical Imaging Center (CBIC), which houses two dedicated 3.0T MR scanners and a 64-slice cardiac capable PET/CT which are all available for both human and large animal imaging research activities.  In addition, the CBIC operates a  7.0T small bore animal MR scanner, a tri-modality small animal imaging system (micro-SPECT/PET/CT), a dedicated micro-PET, two ultra-high resolution CT scanners, optical imaging systems, and a cyclotron with associated radiochemistry facilities.  The  Belfer Research Building (BRB) provides wet lab space for our Molecular Imaging Innovations Institute (MI3) as well as space for the Dalio Institute of Cardiovasular Imaging (Dalio ICI). Under the guidance of Dr. Keith Hentel the department has become a leader in the emerging field of Radiology Infomatics.
The Vice Chair for Research (Dr. Gary Dorfman) has encouraged and worked with our residents to increase activities in research projects ranging from clinical reviews to development of new imaging techniques to basic bench research. Our residents have presented their work at numerous national and international meetings including the Radiological Society of North America, American Roentgen Ray, Association of University Radiologists, American Society of Neuroradiology and the Society of Interventional Radiology. Several of our residents have garnered awards and honors for their presentations. For a more detailed description of the Department's Research Facility Resources please visit "Research" on this website.
If you are interested in training at our institution please consider applying to our residency or one of our fellowships.