The Molecular Imaging Innovations Institute (MI3) is housed on the top two floors of the Belfer Research Building, which opened in February of 2014. MI3 researchers have full access to 8,000 square feet of laboratory space equipped with the most advanced tools for chemistry, biochemistry, molecular biology, tissue culture, animal handling, and imaging. The laboratories are subdivided into several concentrations.
Chemistry Laboratory
The chemistry laboratories are specifically designed for the synthesis of novel imaging probes, including all modalities. The laboratory consists of approximately 2,000 sq. ft that is dedicated to nanoparticle preparation and peptide chemistry, and an additional dedicated satellite radiochemistry laboratory. Major equipment include:
Peptide synthesizer (PS3, Protein Technologies)

LC/MS (SQD2, Waters)
Analytical HPLC system (Infinitiy, Agilent)
3 Preparative HPLC Systems (ProStar 218, Agilent)
fluorescence spectrometer (Cary Eclipse, Agilent)
2 Submicron dynamic Light Scattering particle analyzer (Nano-S, Malvern)
11 6-ft full size fume hoods
Radiochemistry and Radiobiology Facilities
The radiochemistry laboratory located in S-010 has a broad radioisotope license for non-human use including radioisotopes 3H, 11C, 14C, 18F, 32P, 33P, 35S, 46Sc, 51Cr, 59Fe, 64Cu, 67Ga, 68Ga,89Zr, 90Y, 95Nb, 99mTc, 103Ru, 111In, 113Sn, 125I, 141Ce, 153Gd, and 177Lu. The lab is designed for general radiochemistry and radiolabeling of compounds (organic and inorganic). Main equipment include:
Two lead-shielded radiochemistry hoods (5 and 6 ft., respectively, Capintec).
Microwave reactor (Biotage),
Preparative HPLC with a dual UV-Vis wavelength detector (ProStar 218, Agilent)
Radiodetector (Bioscan),
Phosphorimager for digital Autoradiography (Cyclon, PerkinElmer)
Galium generator
Radiobiological Laboratory
This space has been dedicated to molecular biology work, including P-32 and S-35. A Bioassay/Pharmacology laboratory equipped for radioanalytical and biodistribution work is also included within this laboratory.
The biological laboratories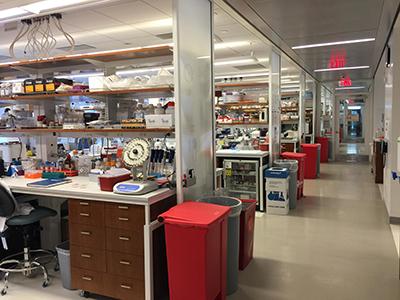 4,326 sq. ft of laboratory space has been outfitted with the equipment and instruments necessary for performing biochemical assays, purification, and molecular biology. In addition to our standard equipment, the laboratories contain:
2 x ultracentrifuges (Optima L-90K and Optima XPN-100, Beckman Coulter);
Biacore (Biacore 2000);
FPLC (AKTApurifier, Amersham);
FACS (Beckman Coulter, Gallios)
Hyperthermia machine (MSI);
Microfluidic system (Dolomite);
Tunable fluorescent and luminescent plate reader (Infinite M1000Pro, TECAN);
Multiplex reader for magnetic bead-based immunoassays (Bio-Plex MAGPIX Multiplex Reader, Bio-Rad).
Multi-channel fluorescence and transmitted light imaging system with a live-cell imaging capability (EVOS FL Auto, Life Technologies).
In vitro and ex vivo imaging system (In-Vivo F-Pro, Bruker)
6 cell culture hoods in two rooms